Ok, so apparently WordPress has changed quite a bit since my last post three months ago and/or the WordPress update I just did this morning. Dangit. I liked it the way it was. Isn't this always the case? I am just now, begrudgingly, used to the new Gmail. Grrr.
Here is a painting of fish bones!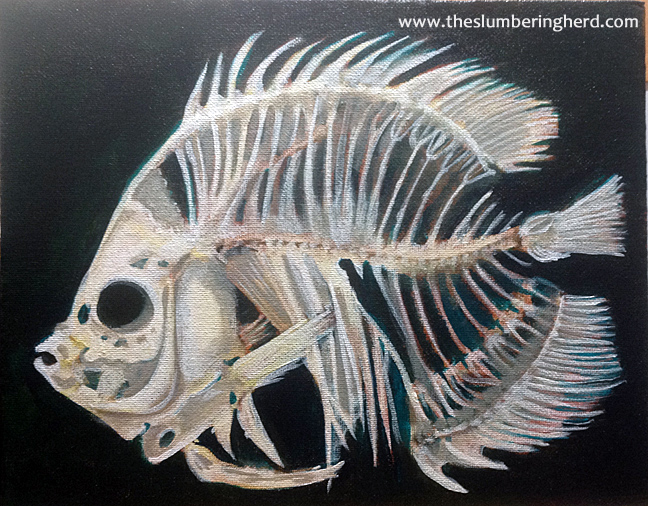 I can tell you these fish bones were painted under some duress. Already days late for a Secret Santa at illustratedatcs.com, the themes I had to work with included Corgi dogs, skulls or other anatomical type bone studies, famous artists, cityscapes. I found some nice reference photos for Corgis and these fish bones. And while some of you reading this thing may be able to produce art on a tight deadline, that is not a thing I have ever had much success with.
Perhaps as a result of completing these fish bones – at the fifty-second hour, til the wee hours of the morning  (and including the mini Corgis in ink, below)  – I should start considering myself someone who can, in fact, finish pretty decent work on a tight deadline. The stress though. Dang. 
Here's progress pics! And like every painting I have ever painted to date, I almost gave up several times. I actually started a new canvas, thinking I'd try a Corgi. But since I was already a couple hours in, I decided to try to finish it. Always try to finish it! That is important. ;)
New WordPress Gallery it seems! Bummer you can't click on each photo. Progress pics of 8×10 acrylic painting. www.theslumberingherd.com
Oh! And here are the corgis! Three ATCs (2.5″ x 3.5″ miniature art)